Student Testimonials
Scroll to view testimonials from Alumni!
Name: Ashley Allen
High School/Year: Independence High class of 2000
College/Year: Florida A&M University class of 2004
Degree: Agricultural Science concentration in Food Science
Without Campus Connections I would have never thought about Florida A&M University. I was dead set on either Howard or Clark Atlanta until I was able to visit FAMU's campus. Going to FAMU was the best decision I ever made. After college I moved to Chicago and worked as a scientist for a market research company. Campus Connections is still influencing my life because I now work for an educational non-profit organization. We take students on HBCU tours every spring break and we host one of the largest HBCU fairs in the nation at Navy Pier every MLK weekend. I work with low-income students helping them get into college and expose them to schools outside of the Chicagoland area. When I am with my students they always ask me how did I end up at FAMU and the answer is always the same Campus Connections!! I am currently in graduate school getting a Masters in Public Administration. I would like to be a lobbisist for education issues and one day be General Counsel for an HBCU. Thank you Campus Connections for helping me pass my passion for Education on to a new generation.
---

Name: Felisha Davis
High School/Year: North Mecklenburg High School/2000
College/Year: Winston-Salem State University/ 2004
Degree: Business Administration - Marketing
Hello! I would like to share some of my personal experience during my time as a Campus Connection student. While a student at North Mecklenburg High School I knew that I wanted to attend an HBCU. My parents are both graduates of an HBCU (Livingstone 76'), and I grew up listening to stories of "The Great HBCU College Experience". However, it was not until I was involved with Campus Connections that I was able to see firsthand what HBCU's had to offer. In addition to stellar academics, HBCU's are able to nurture students in an environment where they are able to see other people that look like them, doing well. I recieved academic scholarships to attend many schools but I decided on Winston-Salem State. While in college, I was a Business major and very involved on campus. I participated in SGA, my respective class councils, and pledged Alpha Kappa Alpha Sorority, Inc. After I graduated, I served as marketing teacher for CMS schools and encouraged many of my students to participate in Campus Connections. Currently, I am a Senior Marketing Research Analyst at a leading Trade Publishing Company and I'm also applying to graduate schools. It was such a blessing in my life to be a part of such a great group lead by the spirit of God and the Baucom's. Thank you for all you've done for me!
---
Name: Tamara Holit
High School/Year: Myers Park High/1993
College/Year: North Carolina Central University / 1997
Degree: BS-Biology
Campus Connections was an unbelievably valuable experience. I would not have become so aware of the contribution and necessity of HBCU's without my involvement in the program. Mr. Baucom gave me the assurance that I could go to any college I desired. He assured me that he would make it happen and he did! The Baucom's are truly an amazing duo! After receiving my Master of Arts in Counseling, I obtained a position as a counselor in the Union County Public School System. I am constantly informing my students about Campus Connections and about the enormous opportunity the program can and will afford them.
---

Name: Richard McClain
High School Graduated from: W.J. Keenan High School H.S. Graduation: May 2004
College: Bowie State University
Degree: Computer Science
I was fortunate enough to be apart of Campus Connections during the Fall of 2003 into the Spring of 2004. While touring that year, we visited Bowie State University where I felt at home. Being a member of Campus Connections helped me to attain a scholarship covering tuition, books, and fees. Since being a student at Bowie State University, I have maintained a 3.3 GPA, acquired a Co-op with the Department of Defense, joined MIE (model institution for excellence who supplies me with a monthly stipend, Treasurer of the Sophomore Class, and Vice Polemarch of the Epsilon Sigma chapter of KAPPA ALPHA PSI. Participating in Campus Connections has opened many doors for me academically and has enriched my life spiritually.
THANK YOU SO CAMPUS CONNECTIONS!!!
Richard McClain
---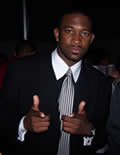 Brandon G. Best, MBA
Graduated: North Forsyth High School 1999, Winston-Salem , NC
Florida A and M University
SBI 5-Year MBA Program
Graduated April 30th, 2005
Distinguished Scholars Award (Full Tuition, Room and Board, Books)

I became apart of the illustrious organization, Campus Connections, during the Fall/Spring of 97/98 and stayed aboard until my graduation in Fall/Spring 98/99. My parents originally enrolled me because they wanted me to get a look at HBCU's and not just predominately white universities. During my senior year, during the southern trip, Florida A and M University caught my eye. With the direction of Mr. and Mrs. Baucom, I was able to obtain a full scholarship to attend school.
While at school, I was became a member of the Presidential Scholars Association, Leaders In Development, Campus Activities Board, NAACP, Royal Court, Presidential Ambassadors, and WANM 90.5 FM (DJ and On-Air Personality). I also held positions with the following organizations: Carolina Club - President, Beta Nu Chapter of Alpha Phi Alpha Fraternity, Incorporated - Educational Director/Stepmaster/Recording Secretary, FAMU National Pan-Hellenic Council - Chapter Representative, and SBI Services, Inc. - President. I participated in all these activities while graduating with a 3.71 gpa.
Through SBI (School of Business and Industry), I was afforded the opportunity to partake in three different salary-paid business internships with Fortune 500 companies in Tallahasse, FL, Philadelphia, PA, and Chicago, IL. These internships not only were paid, but also came with free housing and a company car. I can honestly say that these internships put me ahead of other graduates at predominately white universities.
I currently live in Chicago, IL and work for Abbott Laboratories in the Pharmaceutial Products Division as a Urology Sales Representative. I eventually plan on relocating back to Charlotte and opening a real estate firm that focuses on obtaining housing for low to moderate income families. I can honestly say that without the framework that Campus Connections laid down for me, none of this would be possible. I would like to say thank you to Mr. and Mrs. Baucom, Mr. Chavis, all the other chaperones, and the 300+ students that I traveled with. You all showed me that you can be sucessful and get a great education at HBCU's. If there is ever anything that you guys need, please don't hesitate to give me a call.
Keeping my eyes on the prize,
Brandon G. Best, MBA
---
Darien Davis
High School: Hopewell High School 03'
College: Winston Salem State University
Classification: Junior
GPA: 4.0
Major: Business Admin. with a concentration in Finance & Economics Scholarships: Chancellor's scholarship (full ride); Commercial Investment Trust scholarship, AKA Scholarship and the Atkins, Gleason, Carew International Scholarship

Last fall, I studied abroad in Barcelona , Spain . I lived with a homestay family and traveled throughout several cities in Spain and two countries in Europe ( Holland and Italy ). It was a wonderful opportunity. Campus Connections truly opened the doors to my collegiate success by making me aware of the myriad of opportunities available at HBCU's. Please continue to do what you do to turn young black men and women's college dream into a reality!
Darien Davis
Junior
Winston Salem State University